Auction Preview
The 2018 Gala Auction Preview is your chance to get a sneak peek at the fabulous items, experiences, and packages available at the 2018 Houston Chamber Choir Gala. Please let us know if you have any questions, and check back often as we continue to update the Preview.
Some restrictions may apply. See auction catalog during event for full details.
The Beauty of New Mexico Awaits!
Enjoy a week-long stay at this beautiful 4 bedroom, 3 bath house in Alto, New Mexico, just a few miles outside of Ruidoso! This beautiful home sits on an acre of breathtaking land, perfect for guests to enjoy the stunning panoramic views from the balcony. We suggest you venture out and explore Lincoln National Forest, the Spencer Theatre for the Performing Arts, Ruidoso Downs Race Track, or the Hondo Iris Farm and Gallery.
Value: $1,250
Donated by: The Family of Houston Chamber Choir Soprano, Stephanie Handal
Bourbon Tasting with Master Sommelier David Keck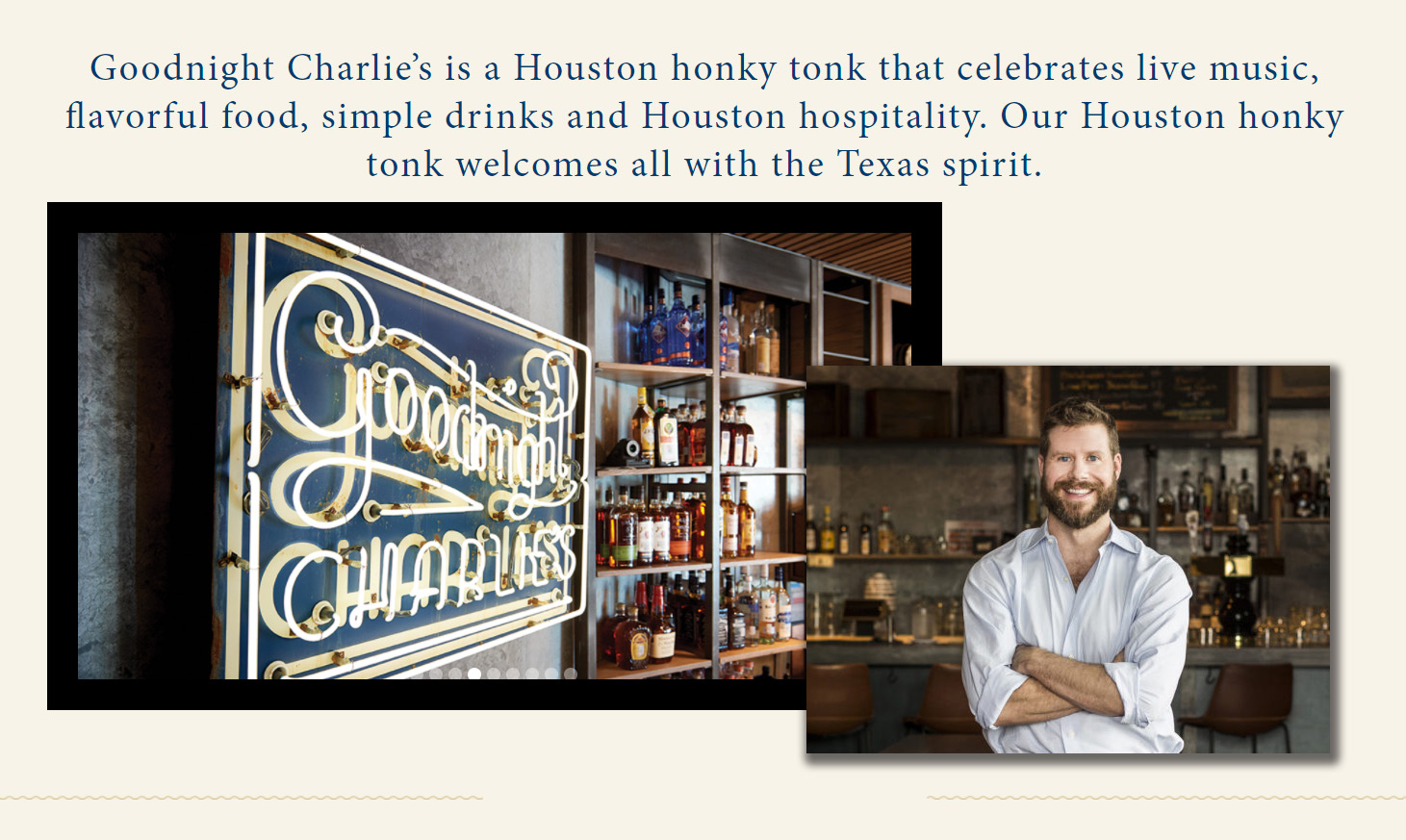 David Keck, Master Sommelier and partner in Goodnight Hospitality, invites the auction winner and 5 guests to come to Houston's newest hot spot, Goodnight Charlie's! The winner and party will be treated to tasting 9 bourbons and light bites as David entertains them with his knowledge and wit. Experience will last approximately 1 to 1.5 hours.
Value: $2,500
Donated by: David Keck, MS - Partner in Goodnight Hospitality
Up Up and Away, Fly Away Today!
Two lucky winners will enjoy Round-trip Premium Economy Airline Tickets for two (2) on United Airlines to any destination served by United within the continental United States.
Value: Varies
Donated by: Janice and Richard Kellogg
A German Style Christmas with Sonja Bruzauskas
Experience the festivities of a German Christmas at the home of mezzo soprano Sonja Bruzauskas and her husband Houston Haymon. Twenty guests will delight in a German style Christmas party, complete with performances by a quartet of Houston Chamber Choir Singers and the talented Sonja Bruzauskas. Guests will enjoy Glühwein, a traditional German spiced wine and celebrate the holidays in style!
Value: Priceless!
Donated by: Sonja Bruzauskas and Houston Haymon
Champagne Pink Baroque Pearl Necklace
This gorgeous necklace can be yours! Hand knotted, jumbo and exquisitely champagne pink, baroque, freshwater pearls (14-16mm), and champagne pink Swarovski crystals. The heart shaped pendant has a mabe pearl in its own hand carved shell. The glow of these pearls is just gorgeous! The clasp is sterling silver with rose quartz. Length: 22 inches | www.joannza.com
Value: $960
Donated by: Joannza! Artisan crafted jewelry by Jo Powell
The Ultimate choral Music Experience
Lead the Houston Chamber Choir while conducting a song on opening night of the 2018-2019 Season! Artistic Director and Founder Robert Simpson will provide conducting lessons and treat the winner to lunch and engaging conversation. Winner will also receive a subscription package for four, which means you'll enjoy the Houston Chamber Choir with friends all season long. Don't miss this unique and very special experience!
Value: Priceless!
Donated by: Houston Chamber Choir
Make it a cultured evening Of Wine + Art
Yvonamor Palix Fine Arts Gallery, Paris, Mexico City and now Houston, invites you to treat yourself to a happy hour (wine and light bites 5-7 pm) or tea time (tea, coffee and sweets 2-4 pm) for up to 10 guests in a unique art venue accompanied by an art talk. Yvonamor has over 25 years experience in the areas of art investment, curatorial projects and art management for private and corporate collections. Yvonamor Palix serves on the board of several visual and performing arts associations in Houston.
Value: $900
Donated by: Yvonamor Palix Fine Arts